Small Business Collaboration and Integration
Introduction
This case study was prepared by the Wharton Small Business Development Center (SBDC) in collaboration with the Energy Efficient Buildings (EEB) Hub program as part of a series of case studies aimed at sharing valuable business experience in the Energy Efficient Building marketplace. The purpose of the study is to showcase three local small businesses working in the Advance Energy Retrofits (AER) space and to demonstrate the need for an integrative and collaborative approach to reducing energy use in the Greater Philadelphia region.
Re:Vision
Architecture firm specializing exclusively in sustainable design projects, especially retrofits. The firm Also offers LEED consulting services. Founded in 2001, with offices in the Manayunk section of Philadelphia and Berkeley, CA, Re:Vision employs fewer than 20 personnel and boasts an extensive portfolio of sustainability and energy efficient retrofit projects.
Practical Energy Solutions
Energy auditing firm based in West Chester, PA, PES specializes in energy auditing, simulation modeling and continued energy monitoring. PES's approach emphasizes cutting energy waste rather than capital investment. PES employs a four person team with engineering, energy auditing and business accreditations and maintains strategic partnerships with local contractors and designers. The firm serves school districts, municipal governments, businesses and nonprofits.
Environmental Construction Services
Environmental Construction Services is a regional leader in energy management and mechanical retrofit projects. The firm aggressively pursues partnerships with local small businesses to combine expertise and develop innovative solutions.
The case study describes the challenges that small businesses face in gaining traction in the AER market, the benefits of collaborative projects, and some examples of small businesses working collaboratively in the energy-efficient building space.
This case study is useful to businesses specializing in AER and related services, building owners interested in retrofitting their property, and energy-efficient technology contractors, subcontractors and suppliers. Local and regional industry groups and business development organizations promoting and supporting the energy and sustainability marketplace will also benefit from the study.
Background: Small Businesses Employing Integrated Design and Collaboration in the Energy-Efficient Retrofit Space
The Philadelphia region has a large potential market for advanced energy retrofits to small and medium sized commercial buildings, those building spaces between 20,000 and 100,000 sq. ft.  Philadelphia is a large, older, formerly industrial metropolitan area in the northeastern U.S
An advanced energy retrofit (AER) seeks to optimize energy efficiency by overhauling multiple systems at once through an integrated design approach.  Integrated design is a collaborative design and implementation methodology that brings clients, architects, builders, systems auditors and engineers, and sometimes building occupants to the table early in the process as co-collaborators.  Participants share ideas and decision-making authority, and discuss the risks and rewards inherent in the project.  Through integrated design, an AER assesses a building as a complete unit, rather than an accumulation of separate parts and systems.  For example, if a building owner plans to improve insulation of the building envelope, it may be advantageous to also install triple glazed windows.  The combination of better insulation and energy efficient windows will likely mean a smaller, less expensive boiler and HVAC system to meet the buildings new requirements.
Representative Companies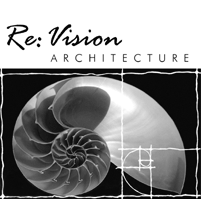 , founded in 2001, is a "deep green" architecture firm with an in-house LEED and sustainability consultancy, specializing exclusively in green building projects. In addition to sustainable architecture and consulting, Re:Vision has an extensive portfolio in areas including green operations and maintenance; professional green design charrettes, sustainability-related education; and green behavior change projects targeting building users. Re:Vision's projects include the Camden Friends Meeting House in Camden, DE, the PECO Main Office Green Roof, Mariposa Co-op Market in West Philadelphia, and the Energy Efficient Buildings Hub at the Philadelphia Navy Yard.
Named "Best Green Architect" by Philadelphia Magazine and "Sustainable Design Leader" by the Pennsylvania Environmental Council, Re:Vision is a Certified B Corporation and a member of the Sustainable Business Network, the U.S. Green Building Council, and the Delaware Valley Green Building Council. Headquartered in Manayunk, PA with offices in Berkeley, CA, the firm is led by Principal-in-Charge Scott Dylan Kelly, AIA and Managing Principal Jennifer A. Rezeli.  The firm employs fewer than 20 people.
Company Project
The Camden Meeting House and Zero Energy Annex was completed in the Spring of 2009 by Re:Vision Architecture.   The firm restored and lightly renovated the historic Quaker meeting house in Camden, DE and designed an environmentally-sustainable annex building to serve as a new gathering place.  The project, which illustrates the intersection of green building and historic restoration, earned the Northeast Sustainable Energy Association's Zero-Net Energy Award in 2011.  Prior to beginning the design phase, Re:Vision partnered with other local small businesses to conduct due diligence, which included an energy audit, structural analysis of the historic building and archaeological investigation of the building and surroundings.  Jenn Rezeli of Re:Vision notes that working with an interdisciplinary team early prevented multiple redesigns due to unforeseen conditions.  By avoiding revisions and change orders, the team saved time and monetary costs.
"By working with an interdisciplinary team early, we were able to make informed design decisions that reflected existing conditions.  As a result, there was minimal redesign due to unforeseen conditions." —Jenn Rezeli, Managing Principal, Re:Vision Architecture
The client wanted a sustainable and energy efficient annex that would not disrupt the history of the architecture and extant structure.  The Re:Vision-led team crafted a design through which extreme energy efficiency and solar energy generation in the annex feeds energy to the lightly renovated meeting house, creating a collective net zero energy footprint.
Re:Vision restored elements of the meeting house and replaced energy inefficient windows with historically accurate, efficient replacements.  The team placed geothermal ambient heating and cooling tubes underneath the floorboards of the historic structure.  The annex, which uses 50% less energy than a comparable contemporary building, shares the same closed-loop geothermal heating and cooling system.  The annex also utilizes a 12.6 kW photovoltaic array, which powers both structures.  The annex utilizes passive solar design, strategic use of daylight, high-efficiency exterior walls with soy-based foam insulation, a high-efficiency structural insulated panel roof, and a tankless water heater.

Practical Energy Solutions ("PES") is an energy assessment and auditing firm based in West Chester, PA. PES provides customizable assessment and management packages to help identify and reduce energy consumption costs for both short- and long-term payback with detailed ROI tracking.
Using a three-phase process, PES first analyzes a building's efficiency and utility costs while estimating its carbon footprint. Next, the PES team develops a plan for operational savings and sets energy-reduction goals and metrics. In developing a plan, PES prioritizes conservation and operational improvements rather than major capital investments.  Finally, PES helps to implement an energy savings plan while monitoring performance.  The PES team assists when capital investments are necessary to meet a client's objectives.  PES's clients include several Philadelphia-area school districts, municipal governments such as the City of Philadelphia and Delaware County, non-profit organizations, and businesses of varying sizes.
Company Project
Energy Modeling Used to Support Energy Audit and Long Term Plan for Building Energy Retrofits.  A large municipal client needed an energy assessment to provide guidance for short- and long-term energy improvements to a building.  PES partnered with three other small businesses to assemble a team that included an architect, a mechanical engineer and an electrical engineer.  PES conducted a field assessment of the building and an energy audit before creating an energy model and a plan that detailed extensive retrofit options.
"One of the advantages of being small is that it allows us to be laser-focused and provide a better service, but collaboration is key." —Paul Speigel, CEO, Practical Energy Solutions
The initial assessment of the facility revealed that the building was constructed in the mid-1970s and still used antiquated, and now broken, controls.  The lighting was inefficient and ventilation systems were poorly zoned.  Elements of the structure, though, presented opportunities for large energy savings.  A building energy simulation was developed to predict the interactive impacts of multiple changes using energy modeling software.  The team determined that the greatest value existed in replacing the pneumatic HVAC control system, installing lighting controls, reducing the number and density of lights in certain areas, and replacing windows on the second floor.  The team also proposed the installation of photo cells on exterior lights, replacement of exterior lighting with LED lights and an upgrade of the ventilation system with a more efficient variable air volume (VAV) model.  PES estimated these upgrades would save the client $36,164—a 23% reduction in annual cost—with a simple payback over 7.5 years.
Environmental Construction Services, Inc. is a full-service commercial and industrial HVAC construction company with a focus on energy retrofit projects. Based in Philadelphia and led by Michael A. Brown, the company works throughout the Mid-Atlantic region to provide, mechanical, air filtration, pollution control, air distribution, and energy management solutions.  The company also specializes in HVAC sheet metal, equipment and controls.
Environmental Construction Services flourished, as the result of a joint venture with Pro-Tech Energy Solutions, a national energy services provider. The two firms combined to create a well-capitalized, heavily insured and bonded entity (Element Mechanical Services) focused on completing complex projects throughout a large geographic region. Environmental Construction Services is considered an industry leader in applied, collaborative, and innovative approaches to financing and implementing projects.  The firm employs four salaried staff and between four and 16 hourly HVAC and plumbing mechanics.
Company Project
Philadelphia Business & Technology Center Advanced Energy Retrofit. Philadelphia Business & Technology Center [RD Report], located in West Philadelphia, is a 272,000 sq. ft., six story building constructed in the 1930s. The building was a manufacturing facility before being converted into a multi-use space, currently housing a charter school, a fitness center, a department of welfare, q restaurant and mixed office spaces.
Environmental Construction Services began working with the owners of this property when a small business partner, contracted by the client to install a boiler exhaust unit, saw the opportunity for energy efficiency upgrades.  The company recommended Environmental Construction Services.  After exploring the facility, Environmental Construction Services sought out the expertise of an additional small business partner, Alternative Solutions Group (ASG).  ASG specializes in energy procurement, building automation systems, and measurement and verification services.  Environmental Construction Services went further; when new stages of the project entailed new areas of expertise, the firm partnered with lighting specialists, window manufacturers, and an engineering firm.   The team also enlisted the help of the EEB Hub and other energy efficiency experts to assist in a holistic evaluation of the client's facilities.
"A collaborative approach means multiple areas of expertise" –Michael Brown, CEO, Environmental Construction Services, Inc.
The Building is large and rambles across an entire city block, with sections connecting in unusual ways designed to accommodate the idiosyncrasies of the original manufacturing process, rather than to promote energy efficiency or help air circulate throughout the structure.  Given this size and complexity, Environmental Construction Services opted to break the building into manageable segments and tackle each in a separate phase.  Phase one included retrofitting a 20,000 sq. ft. office space on the fourth floor.  Michael Brown noted that by collaborating with professionals from the Hub, along with lighting contractors, equipment suppliers and a host of other small businesses with expertise in areas ranging from duct sealant to pressure sensors, his team was able to design a revolutionary airflow optimization system that combined multiple products from various industries.  The innovative design elements of this retrofit phase, and their independence with respect to the rest of the building, prompted Environmental Construction Services to file for a provisional patent.  When phase one is complete, the team will begin working on other systems in the building with the goal of integrating all energy consuming devices through a central automation system.
Challenges and Benefits of Integrated Design for Small Businesses in the AER Market
Challenges
Small businesses that seek to collaborate in the AER market face several challenges.  These issues, if not addressed, have the potential to slow the growth of the AER market as a whole.  The AER market, especially in the small to medium sized commercial space is a young market with few contracts, long selling cycles, unclear owner requests and minimal data points.  A paucity of verifiable results and standardized knowledge create uncertainty.  The market is also hampered by added upfront costs, both financial and transactional, that the integrated design methodology entails.  Financing and contracting complexities, especially for smaller commercial projects with smaller margins and longer payback times, create difficulty for designers, contractors, owners and tenants who look to share the risks and rewards of AER projects.  Fluctuating energy prices and a piecemeal approach to crafting incentives for energy efficiency solutions also suppresses demand.
Benefits
The benefits associated with a collaborative, integrated design approach are manifold.  From the standpoint of providers, collaboration and integrated design allows access to an otherwise closed market in difficult economic times. From the standpoint of expanding a valuable engine of economic growth and a source of energy efficiency, integrated design allows small, flexible, asset-light business collaborations to become incubators of innovation.  From the standpoint of building owners, a collaborative small business approach offers a higher quality product with more comprehensive energy savings.
"When law firms and mechanical contractors, lighting and roof insulation suppliers, banking institutions and equipment manufacturers, government funded innovation clusters and private companies combine to form teams that would typically seem to be incompatible, groundbreaking innovation can be achieved."  –Michael Brown, CEO, Environmental Construction Services
Wharton SBDC and EEB Hub Efforts to Promote Collaboration
In keeping with the stated objective of reducing energy use in buildings 20% by 2020 and fostering the growth of small businesses, The Energy EEB Hub and the Wharton SBDC are keenly interested in helping small businesses gain a segment of the energy efficient retrofit market, while also helping to expand that same market.  The EEB Hub provides technical assistance such as strategic planning, financial analysis, market research, and general management services. The SBDC advisory services enable the Hub to be a market influencer, positioning small businesses to take advantage of opportunities in the Advanced Energy Retrofit (AER) marketplace.  The SBDC's comprehensive, consultative services help launch new business ventures in the AER marketplace.  The SBDC's services offer local suppliers technical and market insight to participate in the AER marketplace. In addition, the businesses advised work in virtual teams to create jobs in the region and undertake AER projects.  The lessons learned will be shared through success stories as advice to the AER industry.
Conclusions
The businesses profiled in this piece demonstrate the challenges and benefits of an integrated design approach among small businesses in the AER market.  The companies represent three distinct segments of the AER market – energy efficient design; assessment; and installation.  There are local suppliers with the talent, business acumen, and market interests to succeed in the AER marketplace.  There is also a potentially robust market demand for AER in the region. By engaging with the Hub's efforts, these businesses are positioning themselves to be market innovators. A key to achieving energy efficiency goals and creating economic value through small businesses lies in collaborative partnerships and integrated design methodologies.  Collaboration supports the inclusion of small businesses in a market where they can combine expertise and leverage their ability to innovate.  However, barriers to market entry and market growth pose challenges. Examples of these barriers are the modest number of projects within the AER market, uncertainty of the value of integrated design projects, and a general shortage of capital in the market to support retrofits.
Technical assistance is critical for small businesses to craft strategy, identify market opportunities, and overcome daily operational challenges.  The EEB Hub and the Wharton SBDC are providing value-added support to the AER market and to small businesses operating in this space.
Small businesses are asset light and flexible, enabling them to focus on energy efficient solutions and to take on retrofit projects of varying size, including small projects that large firms may overlook.  Their size and willingness to collaborate with other like-minded and operationally similar companies also means that they can serve as innovation drivers. Integrated design and collaborative partnership methodologies offer the best way for small businesses to gain market share in the AER space.  Additionally, this approach offers a pathway to retrofitting more and smaller building spaces and meeting objectives for building energy use reduction.
Acknowledgements
Wharton SBDC would like to acknowledge Michael Brown of Environmental Construction Services, Paul Spiegel of Practical Energy Solutions, Inc. and Jenn Rezeli of Re:Vision Architecture for their co-operation and support in the preparation of this case study.
References
---
American Institute of Architects, 2012. "IPD Case Studies," http://www.aia.org/aiaucmp/groups/aia/documents/pdf/aiab093703.pdf#public
Buonicore, Anthony J., 2012.  "Energy Efficiency Retrofit Financing Options for the Commercial Real Estate Market," Critical Issues Series, Paper No. 12-001, February 15. http://www.srmnetwork.com/wp-content/uploads/Whitepaper_EE_Financing_Options_Final_02-15-12.pdf
Econsult Corporation, 2011.  "The Market for Commercial Property Energy Retrofits in the Philadelphia Region," Commissioned by the Greater Philadelphia Innovation Cluster (GPIC) for Energy-Efficient Buildings, Policy Markets and Behavior Task Team. http://www.econsult.com/GPIC_report.pdf and http://www.eebhub.org/media/files/eebhub_reports_energy-market.pdf
U.S. Small Business Administration, 2012. "Small Businesses, Clean Energy and Green Jobs." http://www.sba.gov/sites/default/files/Green%20Business%20fact%20sheet%20%28final%29.pdf